As 2021 is coming to an end, we want to share with you the story of Ödevata told by Helena and Peter Bergström, bloggers from the popular Swedish travel magazine Freedom Travel. Helena and Peter Bergström blogs about their experiences around Sweden and the world. Not only are they keen travelers, but they are also motorhome enthusiasts. 
They found us on their trip to Glasriket, The Kingdom of Crystal, and Småland. To say that their visit during one of the darkest months of the year endorsed our efforts to improve is an understatement. We would never have guessed that one day guests are willing to travel in darkness and bleak weather to stay with us when we took over Ödevata.
We are tucked away in the middle of nature, but receiving two seasoned travelers during the winter off-season brings us tremendous joy. From this experience, we want more guests to know that Ödevata welcomes everyone to their home-away-from-home all year round.
We would like to share their impressive impressions and also give you, the readers, more of behind the scenes. The original blog is in Swedish, but you will find the English translation below.
We would like to thank Peter and Helena from Freedom Travel again for such kind words (Italic sections).

Ödevata Countryside Hotel with motorhome pitches – Sustainable in Småland
Ödevata Countryside Hotel in Småland is a cozy, simple and close-to-nature hotel, where motorhomes are also welcomed. What fascinated us most about this place was the owners' commitment to sustainability and to save the world. Read on and get inspired!
Countryside Hotel
Ödevata Countryside Hotel in Småland is a cozy hotel – with motorhome pitches – for everyone who likes nature, fishing, sauna and sustainability.
It is located about a mile (10 km) east of Emmaboda in Glasriket, in Småland.
Hotel and cabins
If you want to stay at Ödevata Countryside Hotel, you can either stay in the main hotel building, or in one of the many cabins. Whatever you choose, you will get country charm, and doesn't matter if it's self-catering. The owners, Malin and Magnus, welcome you to a relaxed and peaceful holiday experience.
The rooms in the hotel are nicely decorated with a country-feeling, whilst being comfortable and cozy.
There is no food service at the hotel, but there are several communal kitchens where you can prepare your own meals. "The guy on the wall? He's still alive," says Malin. Here, pictures are not just pictures – they tell a story.

Behind the scenes – New reuse project
Here we would like to mention that unfortunately we didn't have the chance to show Peter and Helena our upcoming themed guest apartments! It is our latest sustainability project, where we tore down old buildings and reused the materials for a new building with three guest apartments.
You can watch a guided tour from Magnus, in Swedish, about this project on Youtube and Facebook.
This is a very exciting project for us, and it is unlike anything we have done before. With these apartments, we wish to create a trend for reuse and show that there is no need for everything to be new! Not only is it sustainable, it also radiates a vintage feeling.
Ödevata has a long history and we wish to show the history and heritage of our place through this project. The building for the new holiday apartments is actually a renovated old barracks. We wanted to keep as much as how it was before.
The themes are being kept secret for now. What we can tell you that everything inside are either reused, repurposed, or donated by our neighbors and guests. Each apartment will have its own theme, and you can pre-book them today for summer 2022!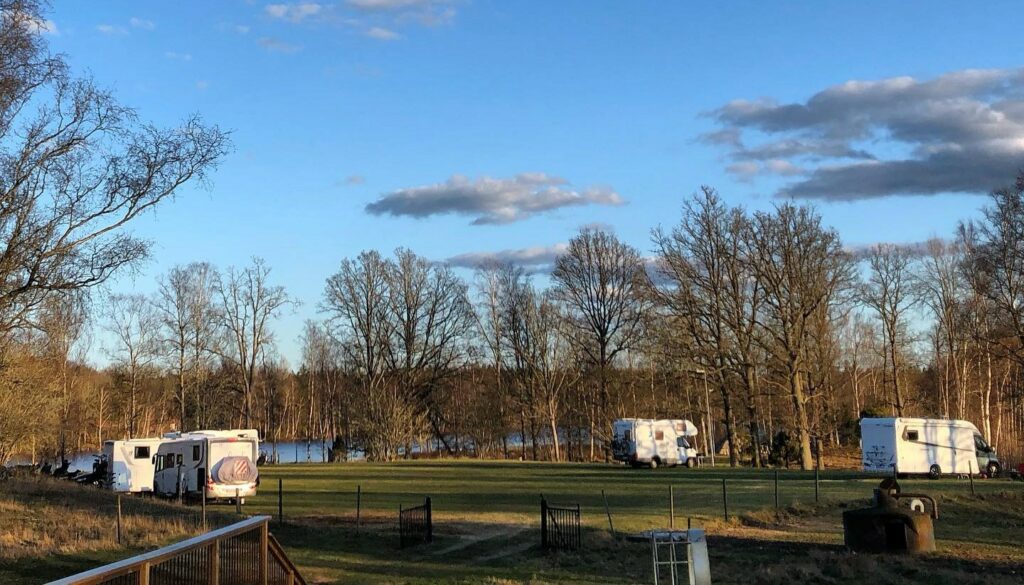 Motorhomes pitches at Ödevata Countryside Hotel
You can also come to Ödevata with a motorhome. There are five pitches on hard ground, and another six on grass. Electricity is available, as well as access to showers and toilets. However, there's no opportunity to empty your latrine.
We arrived on a November evening, and it was pitch black outside. It was only the morning after that we discovered that we were staying next to a lake! This night we were alone on site, but if you come during the mid or high season, it is wise to book your spot in advance.
Fishing camp, bath, nature and sauna
Ödevata sometimes uses the slogan "Stay between the lakes", and the lakes are really right at your foot step. Many people come here to fish. Fishing licenses are sold on site, and as an overnight guest you can also rent a boat for your fishing trip.
Others visit Ödevata just to relax in a scenic environment, perhaps also with a nice sauna and swim.
According to Malin, many of the guests discover the beauty of "doing nothing". If you still want to get active, you can, for example, rent a canoe or kayak. There are also plenty of hiking trails in the area.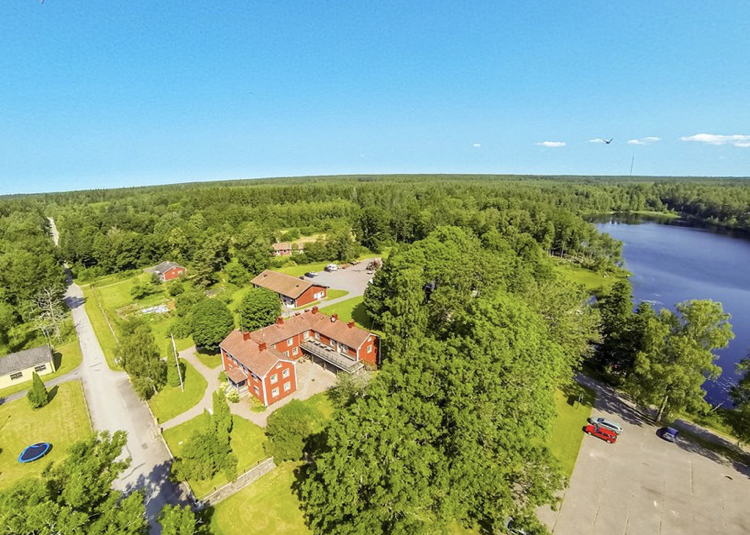 Behind the scenes – Returning guests
We have heard from many of our family guests that they keep returning to Ödevata because there is something for everyone. Usually the children like to be active and explore, and the parents prefer being more relaxed in the sauna, or simply enjoy the calm lounging around. Many love our wood burning saunas that we have built floating on the lake. Sitting in the sauna is not only magical, but you also get 360 degrees view of the lake.
We value the closeness and sense of belonging to nature. You may have noticed that our full name is Ödevata Countryside Hotels and Fishing Camp, that is because we have over the years received many guests from all over the world coming to fish pike, zander in our lakes. We promote, of course, "catch and release". We also encourage guests to also come during winter for some ice fishing and cross-country skiing!
Ödevata is actually becoming more popular with large families, since they can rent out the entire farm hotel for a week or longer! Why? Because Ödevata is the most tranquil place on earth surrounded by lakes, nature, forests, silence.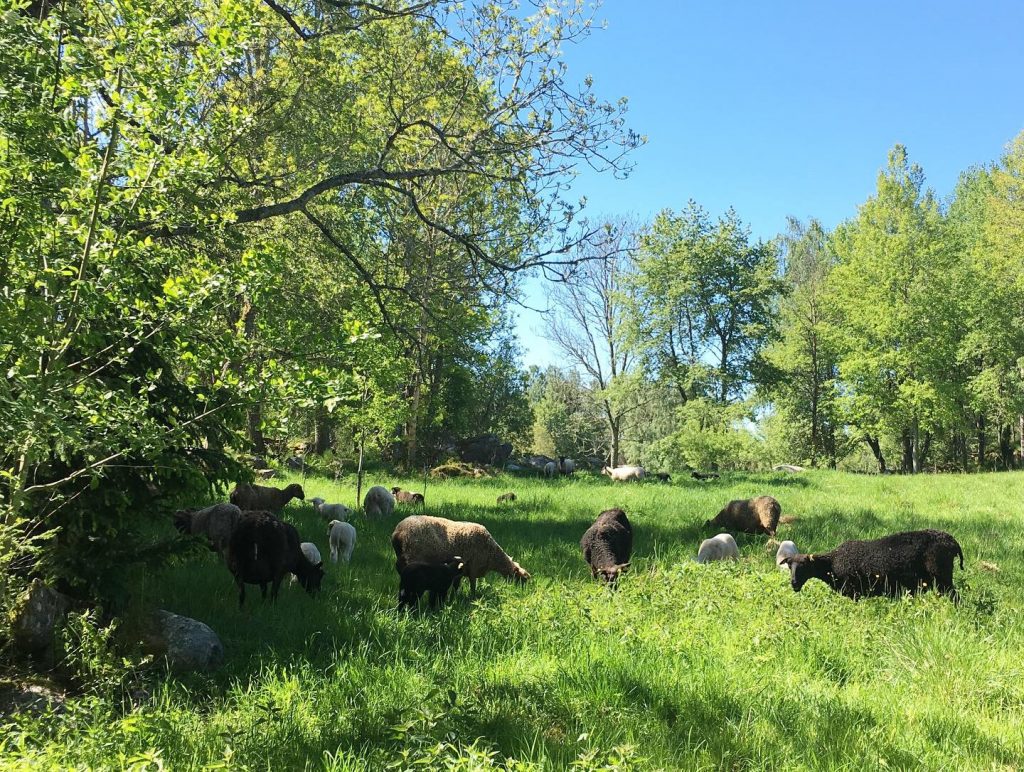 Behind the scenes – Continuous improvement 
Ödevata continuous to develop, returning guests feel that they are experiencing something new every time they come. Many sees Ödevata as their second home. We are informal, but maintain a very high-quality standard. It is said best by our guests, Hartmut and Anja from Germany.
"Dear Malin, being back home in Germany after a quick and pleasant journey by car and overnight ferry, we still miss the special Ödevata feeling: having breakfast on the porch in your comfortable garden chairs, doing some yoga on the green grass in the morning sun, swimming every day in the lake, going on a canoe or fishing trip right from the front door, getting an interesting and informative tour of your green house, preparing dinner in your well equipped kitchen, playing table tennis, baking cake with freshly picked blueberries from the wood, having numerous wonderful sauna float experiences with a crackling fire during sundown on the lake, getting a good night's sleep in your cosy and pleasant hotel rooms, receiving tips for sightseeing and lots more. You made us feel so welcome – tack sa mycket! – Hartmut and Anja."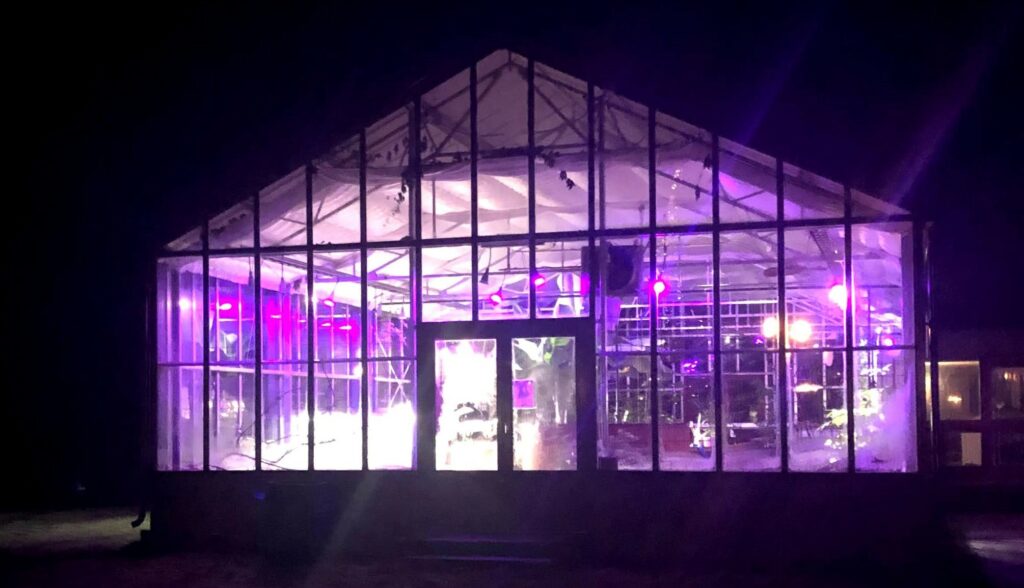 Greenhouse with aquaponic cultivation
One of the first things we saw at Ödevata when we arrived in the November darkness was the beautifully lit greenhouse. The next day Malin showed us around and told us more.
In the greenhouse at Ödevata, there is an aquaponic cultivation system. You haven't heard of it before? Don't worry, we did not either, but we were fascinated by what we learned.
Aquaponics is a sustainable food production system that combines conventional aquaculture (cultivation of fish, shellfish or algae) with hydroponics (cultivation of plants in water) in a symbiotic environment.
This means that Malin and Magnus can cultivate both fish and vegetables (including bananas and tomatoes) without having to change the water. Interesting and smart!
Malin spoke enthusiastically about aquaponics and its many benefits, as well as explained, among other things, how the water is purified with the help of biochar. By the way, biochar turned out to be Malin's and Magnus' number one favorite subject, and perhaps their most important contribution to their project to save the world.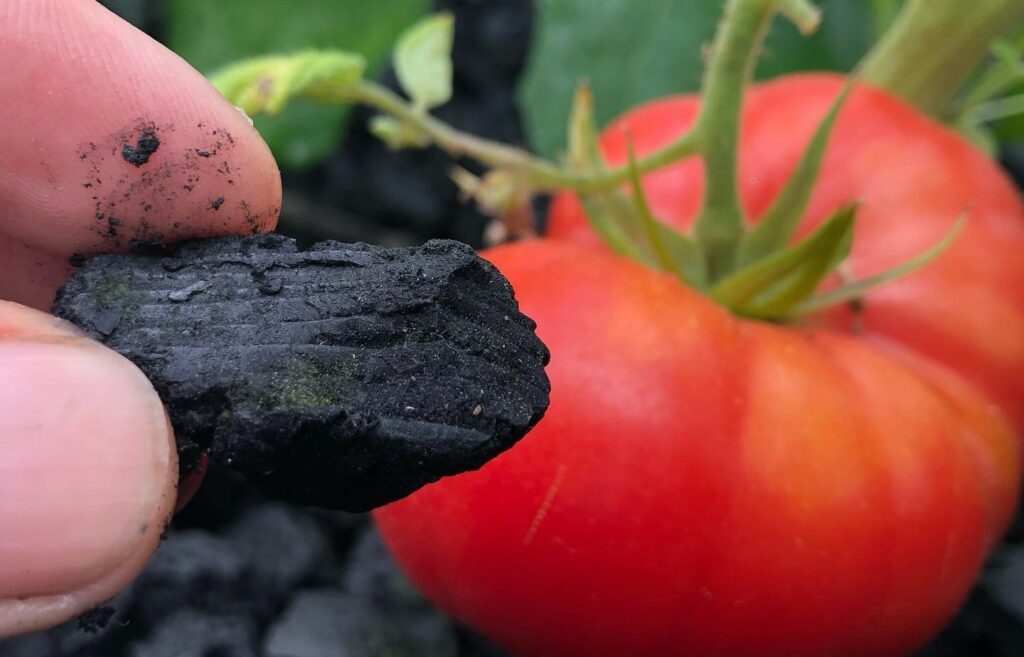 Biochar – To save the world
Malin and Magnus are passionate about saving the world, and one of the main ingredients for succeeding in this, is biochar. Biochar has a fantastic potential for a climate-friendly and sustainable society. This relatively simple product can be used, among other things, as a water purifier, soil improver and carbon dioxide sinker.
At Ödevata, biochar is used as bedding and feed supplements for the hens, as a filter system in aquaponics, and to bind nutrients in the compost buckets.
Malin and Magnus are also excited about teaching others how to produce and use biochar, among other things, through study visits and collaborations. Saving the world is not something you do on your own – it must be done together.
So, how do you make biochar then? What we learned is that it is a relatively simple process, and Magnus has built several different models to show how people can produce biochar on their own. You see two of the models in the pictures above, and if you want to know more, you can simply visit Ödevata.
In the picture below, you see a small appliance where even those who do not want to produce biochar themselves can choose to buy a bucket or two for eight kronor per liter. The message from Malin and Magnus has been conveyed – everybody can contribute from the small, to the big projects to save the world.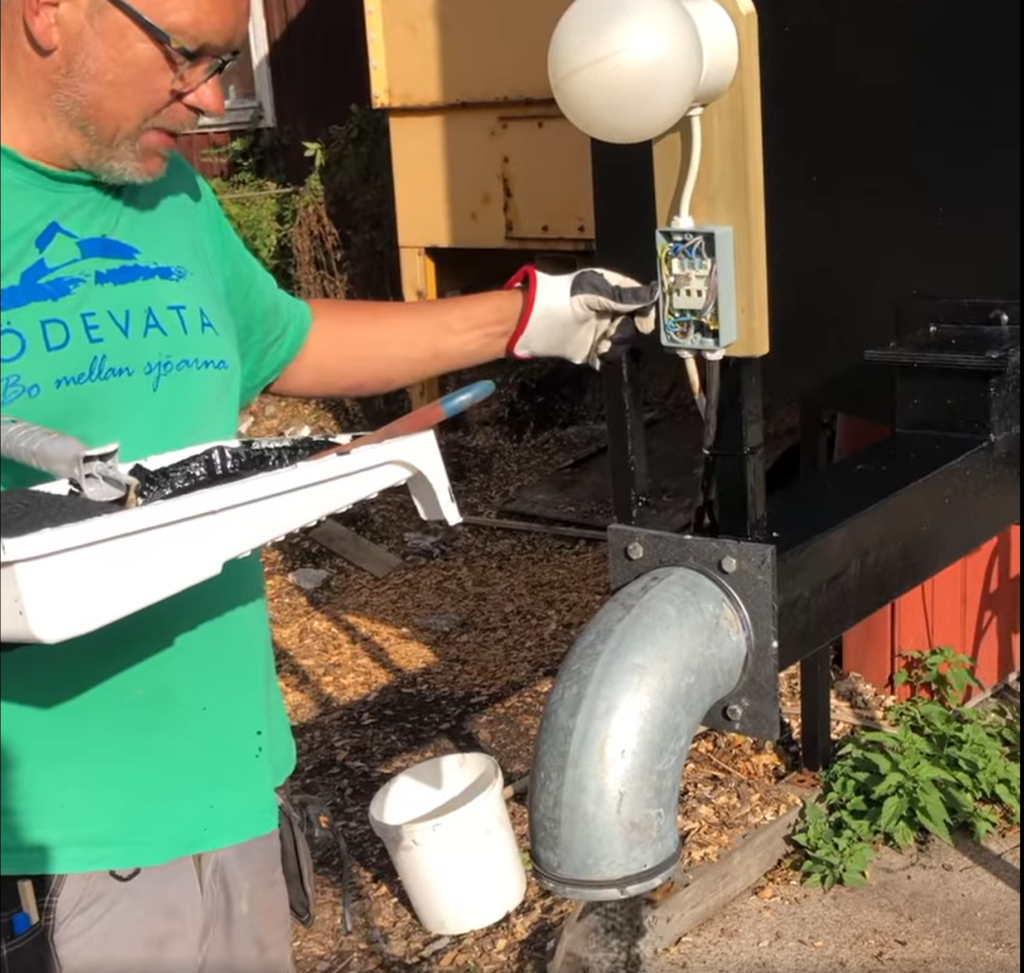 Behind the scenes – Core mission and values
It is our core philosophy to not only not harm the environment, but also actively try to make the world a better place. We want to become Sweden's, if not the world's, most sustainable holiday destination, and show our guests the way towards a more sustainable lifestyle. It shouldn't be a burden, or needing to sacrifice, to be more responsible.
Our seasoned followers and guests have heard about us talking about aquaponics and biochar numerous of times. We have plenty of material on both topics in English (What is aquaponics, what is biochar) and Swedish (How to make biochar, making biochar video). Nevertheless, our greenhouse, or Conservatory of the Future, is a source of joy and pride.
We have hosted dinner parties for our extended family and guests in there. It is a perfect place to hang out, but more importantly aquaponics is a source of sustainable food production and the lights are actually important for the wellbeing of the fishes, the vegetables and fruits we grow. It isn't just for show! We grow Tilapia fish, tomatoes, lettuce, and tropical fruits, such as passion fruits, bananas and papaya. You can book a separate tour of our greenhouse if you are not an overnight guest.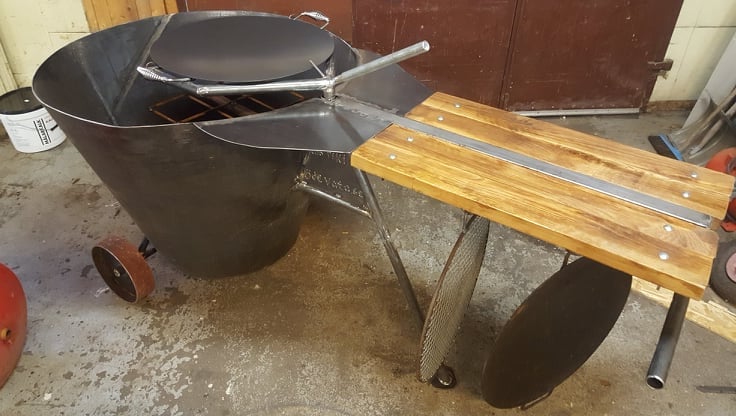 Behind the scenes – New additions
If you ever visited us, you may have heard a long time ago that Magnus was making biochar grills for guests to buy, since many have asked. We also want to show that every one can create biochar at home and use it in their gardens. I am happy to announce that that day has come! You can now pre-order a biochar grill from us to take home! For more details, you can email us at info@odevata.se.
The next exciting development is that we have matured our aquaponic cultivation techniques, so guests can now taste the fruits and vegetables from our aquaponic greenhouse! As well as, you can even take home our wonderful Tilapia fish, frozen or freshly smoked on site. If you are staying with us, you can borrow one of our biochar grills and grill it yourself.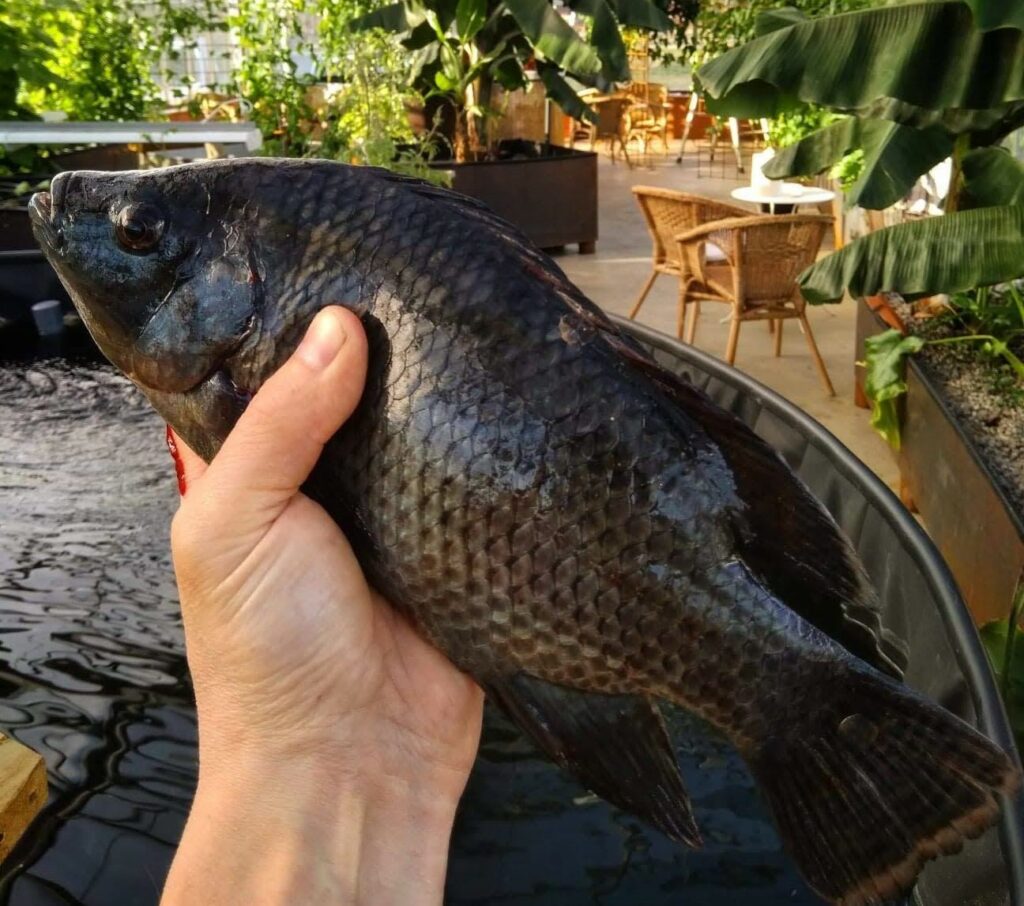 As Peter and Helena mentioned, we don't have any food service, except for breakfast. Instead, we work with others nearby, like Explore Småland, who makes great dishes and are equally passionate as us. Chatrine from Explore Småland is more knowledge about the local food history and culture, which she uses as inspiration for her dishes.
Lastly, we have new audio guides, in both Swedish and English, which gives you a virtual tour around our greenhouse and talks about our biochar journey! In them, you will get to know the science behind biochar and aquaponics, as well as why we are so invested in them. When you arrive at Ödevata, scan the QR codes and they will link you to the guides. We want to give tours and talk about our projects to more guests even if we are not there! Or you can book a personal tour ahead of time.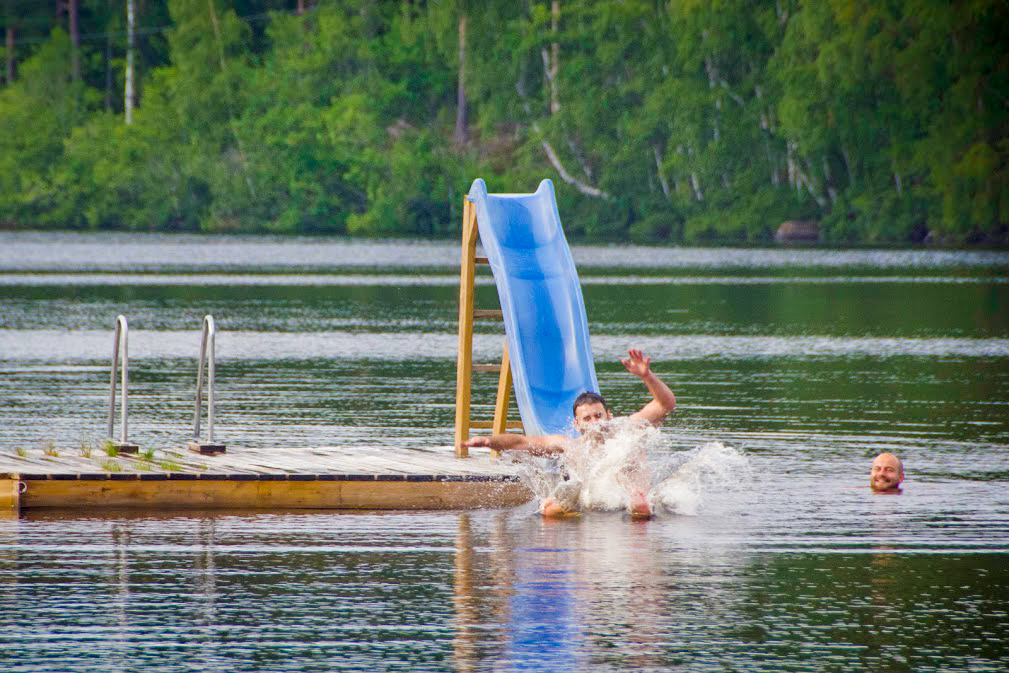 More to see and do nearby
Ödevata Countryside Hotel is located in the middle of "Glasriket" (Kingdom of Crystal), and there is a lot to see and discover in this area, we promise. It is not far from Emmaboda, where you can visit Emmaboda art establishments and the charming café, Fenix. If you want to see beautiful glass art, it is also close to Mickejohan's glass art studio.
We can also recommend a visit to the James Bond Museum, Lessebo paper mill, The Glass Factory in Boda, and of course, Kosta to see glassblowing and the glass gallery, taste cabin herring, visit the Christmas market and much more. For those of you who like nature, we can recommend moose and game safaris, and zipline adventures, as well as experience packrafting at Vidinge farm.
Behind the scenes – Conclusion
Even though they only stayed for one and a half day, they still wonderfully managed to get the essence of our dear place. We want to share their thoughts about us, and see Ödevata from another perspective. We could not have said it better.
What keeps us going every day is the fact that we are creating a place that is sustainable, and will be here for generations to come. We want to you feel at home at our countryside hotel, our campsite, and lakeside cabins.
At the end of the day, we want Ödevata to always be a holiday place full of fun, learning, home feeling, and sustainability for everyone!