Axelsson's Green Lodge has a smart shower that saves water and energy
We have talked about how Axelsson's Green Lodges aim to be very environmentally-friendly and we reuse as much as possible. For example, all the materials, including wood panels and nails etc, are from another old building we teared down. All the furniture, doors, windows and such are refurbished as well. What we haven't talked about yet is the amazing new high-tech showers from Orbital Shower in Axelsson's Green Lodges.
Orbital Shower has similar philosophy to ours, that is to be as sustainable as we can, and that's why we gladly chose them for the new showers in Axelsson's Green Lodges. Their system is very fascinating and unique. If you want to know more about Orbital Shower, you can check out their website.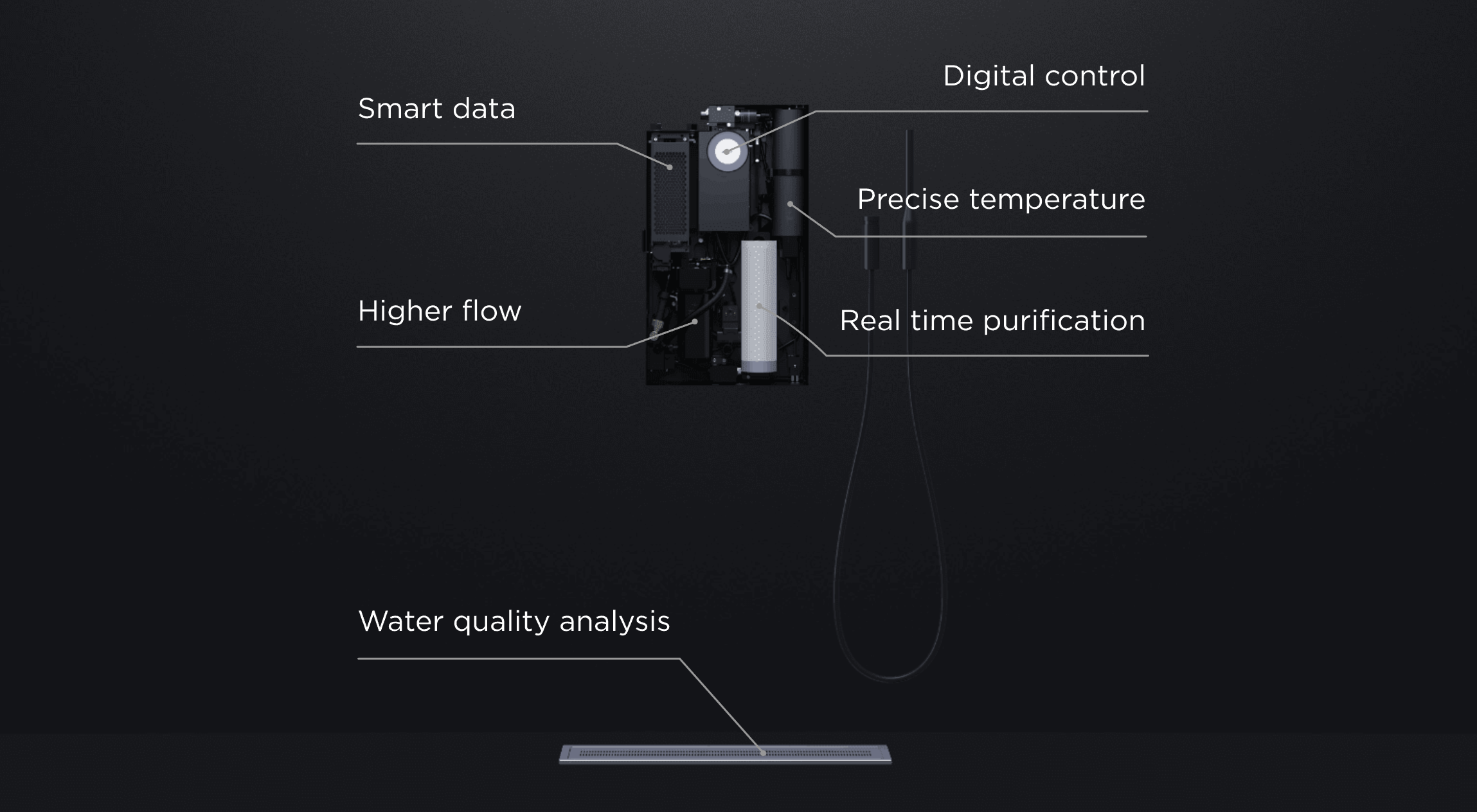 What is Orbital Shower
Orbital Shower is a smart shower that saves energy and water by recycling the already heated water when you shower. The system would analyze the used water and then it will go through a filter before being reused.
Fresh water only comes in when replacing the water that is deemed too dirty for efficient filtering. This way no water and energy are unnecessarily wasted. All of this is done in the background, so it wouldn't feel any different than a regular shower.
Imagine taking a long, hot shower without feeling guilty about wasting water and energy. An average shower uses about 9.5 liters per minute! This is something that must be addressed to make our homes more climate-friendly.
Orbital Shower is a Swedish recirculating shower startup that was founded in 2012 after a collaboration with NASA to develop a sustainable water supply solution for a Mars mission. This inspired Orbital Shower to solve the problem of daily unsustainable water consumption.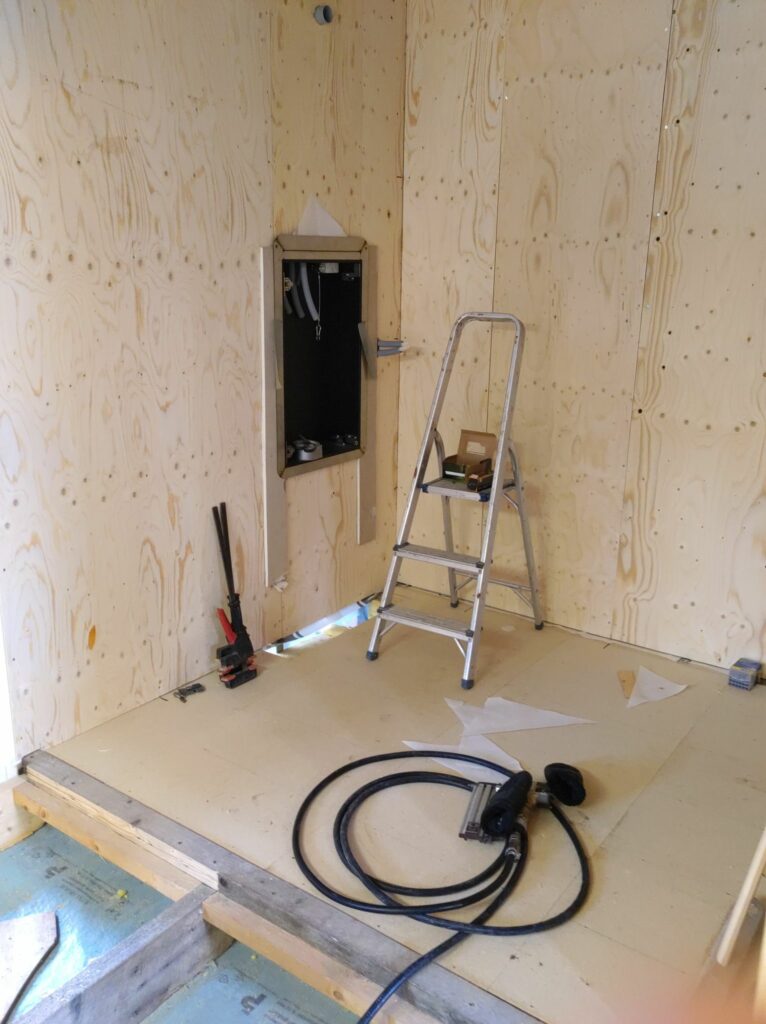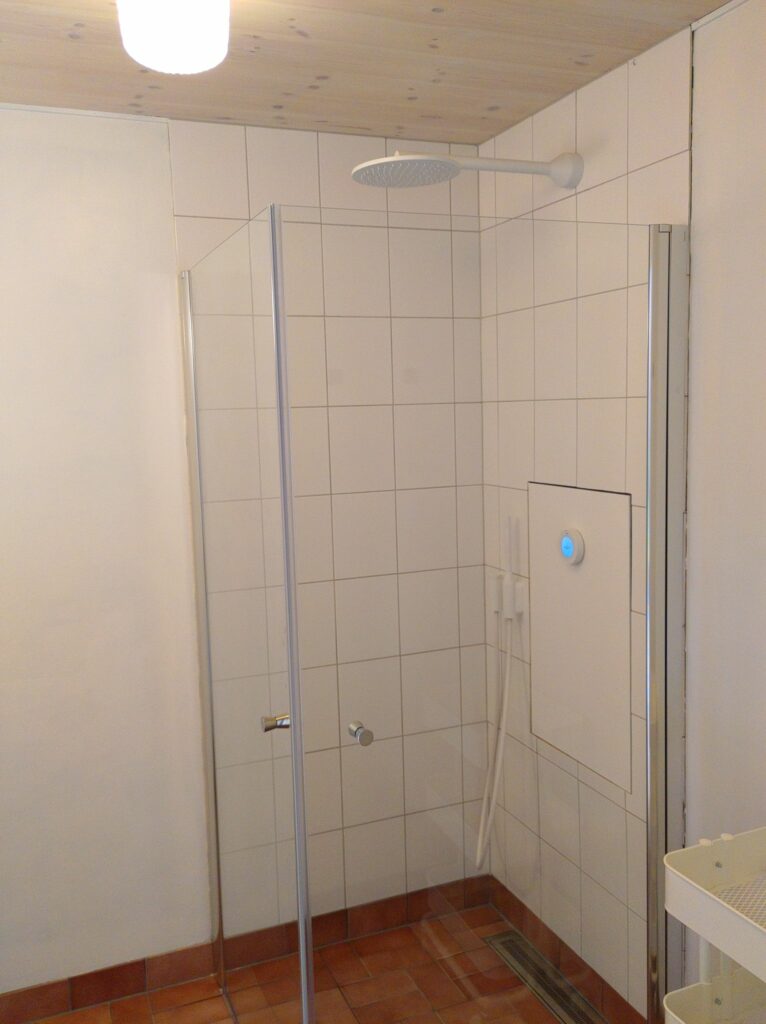 How we found Orbital Shower and why we chose them
The story began when a colleague of ours installed Orbital Shower in one of his houses. He told us that the shower feels very luxurious and that he saved so much water and electricity. This was the first time we hear about Orbital Shower. After a while, we were reminded of them when we saw their advertisement in the home improvement magazine "Kloka hem".
So, we finally chose these showers for Axelsson's Green Lodges because we think the technology is fantastic and super interesting. You are not only saving water, but also energy as once the water is heated, the hot water will be reused again and again as you shower. As well as, you have more precise control over the temperature and flow.
_
"There is simply nothing better on the market that we know of than these deluxe and highly intelligent showers." – Malin Axelsson.
_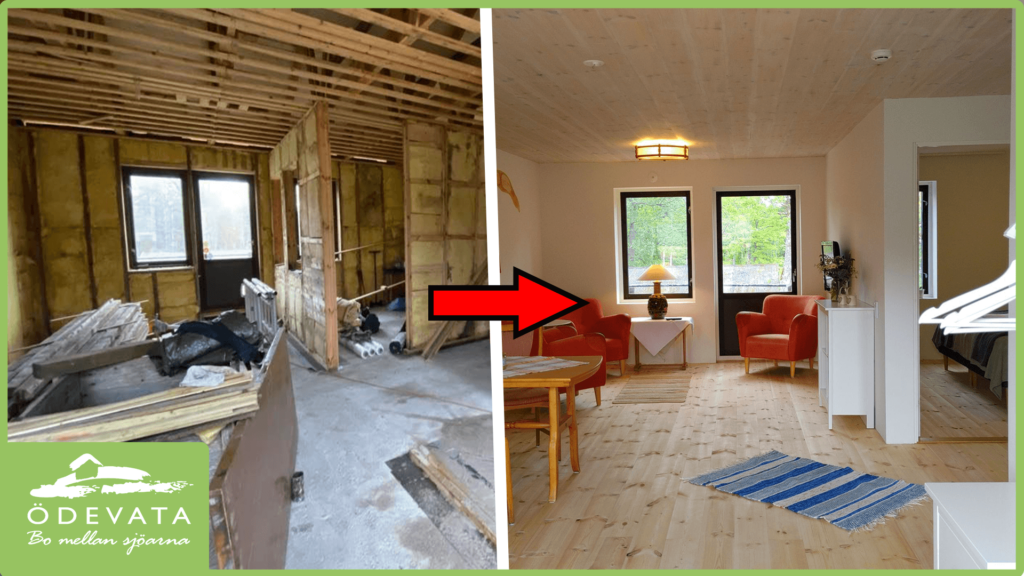 Our reuse and recycle building project: Axelsson's Green Lodges
Axelsson's Green Lodges was once a barracks building, which has not been used for over 20 years. Since we took over Ödevata in 2005, we always wanted to do something with the building, but we didn't have the time. In 2021, we finally have an idea and have the time to start our reuse and recycle construction project, Axelsson's Green Lodges, and change the dilapidated building into an exciting new climate-positive apartment-style lodges.
What is means is that all the "new" studs, insulation, windows, etc. to Axelsson's Green Lodges are reused. As little as possible are bought new. We are putting the environment first in this project. Things that can't be reused, we try to find second hand options or buy locally.
There are now 3 three-room apartment-style lodges in Axelsson's Green Lodges, each with 2 bedroom, a living room with kitchenette, and a bathroom. You can find more info and how to book on Axelsson's Green Lodges page. We are also making a cozy outdoor kitchen with a pizza oven outside in the garden during the evenings. This outdoor kitchen will be shared amongst the three apartments.
Modern technology and sustainability
Sustainability is no longer just a word or idea, but a driving force that's changing our day-to-day lives. Although the solution to this problem is complex and will need several generations to see any result, what's certain is that technology will play an important role.
Technology has the power to increase productivity, efficiency, reduce waste, and analyze and track progress, all of which can help minimize the impact on the environment.
With Axelsson's Green Lodges, we want to show how much influence you can have on yourself during the construction and interior design if you focused on sustainability. Together with all our recycling, reusing, and refurbishing, showing modern green technology that works wonders without sacrificing the quality is something we absolutely want.