Book a climate-smart experience: A sustainable holiday paradise in the middle of Småland
Welcome to Ödevata Countryside Hotel Sweden, the little paradise in the midst of Småland's woodlands. The camping is between lakes located 10 km outside of Emmaboda and just a short drive away from major sightseeing places: Kingdom of Crystal, isle Öland and Astrid Lindgrens World in Vimmerby. Are you on a round trip through wonderful Sweden? We look forward to meeting you and make sure you enjoy your stay. Personally, and naturally, we look after your wishes.
About Covid-19 and Ödevata
Our guests' safely is our number one priority. We take the COVID-19 situation seriously and have changed many of our routines. We want our guests to stay with us without any concerns. Ödevata has plenty of space for social distancing, and endless outdoor areas. We handle the bed sheets change, room cleaning and breakfast serving according to current guidelines and regulations. To ease the minds of our guests, and future guests, we have adapted our cancellation policy, including extended cancellation period. Our goal is to provide our guests a place to forget and relax in these trying times. We look forward to your booking – WELCOME!
The common theme for Ödevata is to achieve sustainable lifestyle and tourism.
We, Malin and Magnus, are passionate about change. We strive to become the most sustainable tourist establishment in Sweden, perhaps worldwide. At the same time, we also aim to be climate-positive. We want to contribute to a stable climate, not just to cope with it.
Therefore, we are not just spending the night in beautiful surroundings. We are a positive force; we want to save the world together.
We want to show that it is easy and enjoyable to take responsibility. We share our story so that more can be inspired and learn from our experiences.
We simply want Ödevata to show the way.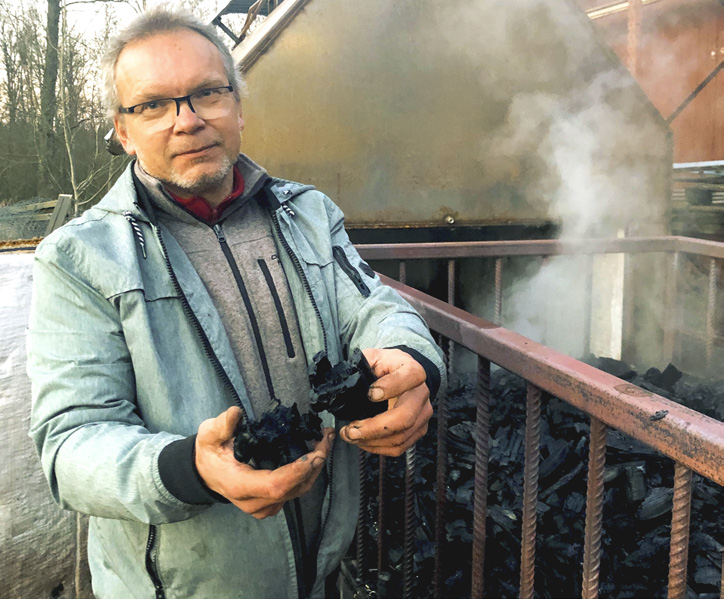 Biochar as a climate benefit
Today Ödevata is a meeting place for climate-positive experiences and biochar plays a major part.
Biochar, or biocharcoal, has a fantastic potential to support a climate-smart and sustainable society. It can work as a soil amendment, sewage and water purification filter, animal feed supplement, carbon dioxide sink, enhancer for trees in the city, foundation for football fields … etc.
Together with others, we carry out innovative biochar projects, such as green roofs grown in biochar and water purification in an aquaponic system using biochar.
We use biochar in several stages. It starts off as an animal feed supplement and bedding for our chickens, then a filter system in our aquaponic cultivation, and later as nourishment for our, the hotel guests' and our neighbours' compost buckets. Fully loaded with nutrition, we finally use the biochar as soil amendment for our crops. It then captures carbon dioxide, becoming a carbon dioxide sink, for thousands of years.
We can produce biochar in four different ways. Magnus has built and developed various models to show that almost anyone can make biochar. We use them in our courses to spread knowledge and inspire others to do the same or better. Together we can save the world.
The wood chip boiler has been redesigned and can now produce biochar too. It runs continuously and provides heat to the entire establishment, as well as to our Conservatory of the Future. It also gives our guests hot water.
Magnus has also built a biochar oven. It is a so-called batch model, in the sense that it runs from time to time, but can produce a lot of biochar for more frequent biochar users. It is an educational and inspirational machine – a modern coal mill from Australia. It can also be connected to the heating system.
The "Kontiki" is a smaller garden model. It is portable, and can convert twigs and branches into biochar. "Kontiki" is perfect for use in one's own garden. For us at Ödevata, it is a good educational tool at our various events and courses about biochar production.
Grilling should not only remind you of summer, but also Ödevata! Magnus has designed several unique biochar grills that our guests can use for their BBQ party. Sometimes, we also use them for outdoor cooking.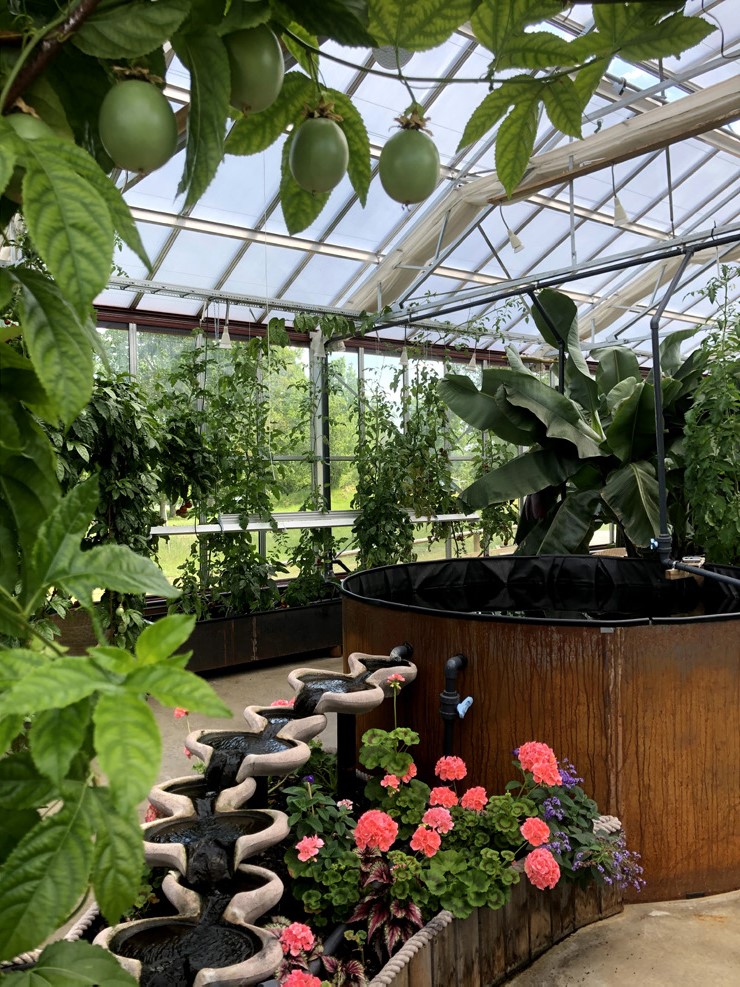 Ödevata has a fascinating history. It is, today, a beautiful and red themed courtyard surrounded by lakes, but it was a large-scale farm in the beginning. Parts of the farm date back to 1880. After Ödevata became state property in 1920, three different types of business operated and remained here until 1997.
There were, for example, Sweden's first workhouse for "neglected family fathers". During the Second World War, Ödevata was a refugee camp and then it became an open correctional facility with about 40 employees and 60 interns. Afterwards, Ödevata was deserted for almost 10 years, until we bought it in 2005. Back then the farm was in a state of decay with overgrown vegetation.
We, Malin and Magnus Axelsson, took on the challenge in 2006, when Ödevata – a former penal institution (!) – stood empty and abandoned since nine years back. Over time Ödevata evolved into a fishing- and activity- camping site in stunning nature with accommodations of high quality.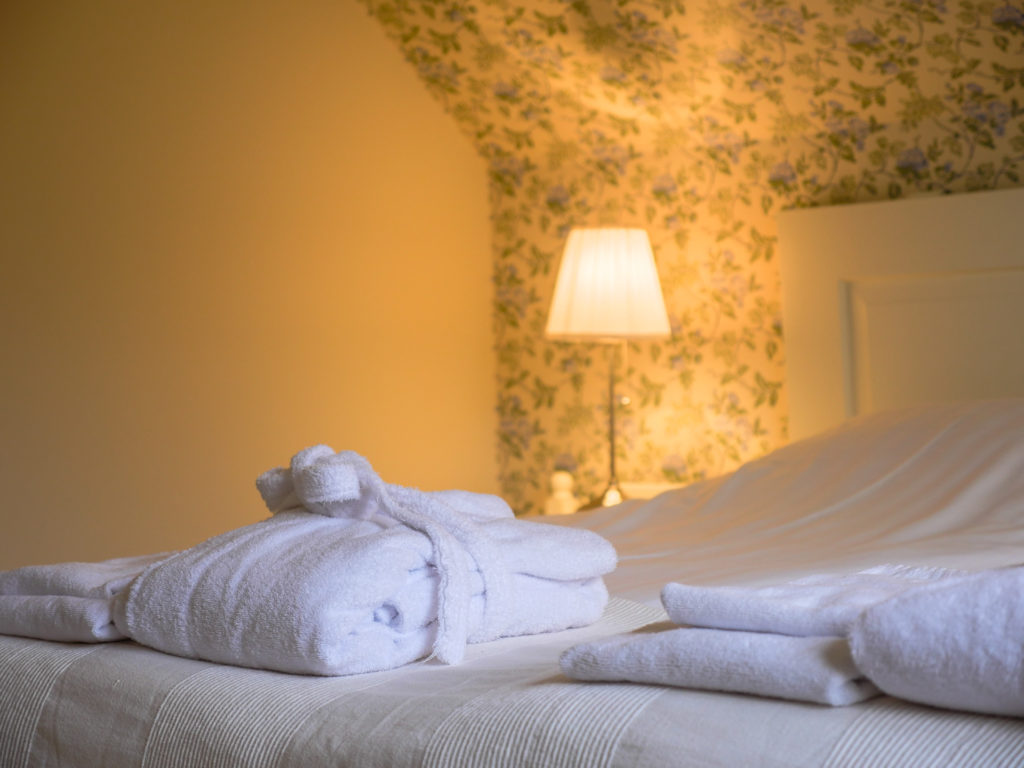 We hope you have a good time and want to stay a while longer: Ödevata is a fully developed holiday-facility, but at the same time our very hearth and home. It is here we keep our animals, cultivate plants, harvest, build and initiate exciting new projects for a better environment. We and our staff are happy to share our ideas and show you our day-to-day-work. Just join us and see for yourself!
Our passion and care for this unique place of earth shine through everything Ödevata has to offer: Your breakfast-eggs come fresh from the chicken-run, as the honey comes from our own hives. You can buy home our delicious farm-made apple juice. Also, we prepare thoroughly for our fisherman-guests with primed equipment, boats and a small shop for accessories, – all year round.
Visitors from all over Europe have made their way to our paradise between the lakes, and we often welcome larger groups who spend their holiday here. In the Kalmar-region, Ödevata is well-known as a conference-facility with comfortable lodging and activities "close to nature". For families, Ödevata is the perfect weekend-break for recreation "in the nature".
We want to make it easy for you to visit us, to make a request and book your stay. Therefore, we welcome you to get in touch and express your wishes. We'll make sure your trip, holiday or meeting to be as relaxing or exciting as you want it to be.
The Conservatory of the Future
Our latest innovative project in development is "The Conservatory of the Future". It is a massive greenhouse for aquaponic cultivation.
Aquaponics is a sustainable food production system that combines fish and plant farming. Here, we use biochar as a filter system for fish farming, and at the same time cultivate directly in the nutrient-rich biochar.
After countless experiments and trial cultivations, we can now grow passion fruit, bananas and loads of tomatoes!
Do you want to know more?
Our driving force is all the wonderful meetings, events and collaborations we have with our guests and partners. Meetings that inspire and cause a ripple effect.
Ödevata will show the way and together we can make a difference!
Are you interested in learning more about biochar and aquaponics? Call us and we will help you further. You are warmly welcomed here!
Book a climate-smart experience – stay at our farm hotel (which has a very high standard), plan a rewarding study visit, or host your next conference with us here at Ödevata.
Welcome!
Malin och Magnus Ödevata Gårdshotell
Ödevata 104
SE – 361 92  EMMABODA
Tel: +46 47 150 430
E-mail: info@odevata.se
Copyright © 2023 Ödevata Gårdshotell