Axelsson's Green Lodges: True country feel in repurposed barracks
We have built new climate-positive lodges using recycled and repurposed materials from existing buildings. Most of the furniture and equipment are also refurbished. The old barracks is now three apartment-style lodges. Our goal is that when you stay in the lodge, you should not only feel comfortable, but perhaps also filled with wonder and ask us, "That chair, where did you find that Malin?" Each stay will be different and your experience will be an unique memory for life.
Axelsson's Green Lodges is not only designed for comfort and to be sustainable, each lodge also tells a story. It is an exciting holiday getaway in southern Sweden. It is newly built in 2022, but we used recycled materials where we can and implemented climate-friendly solutions that will make your stay very enjoyable.
There are three apartment-style lodges in one building. Each lodge has two bedrooms, a total of 3 regular beds and place for an extra bed (Maximum three adults and one child). Each lodge also has a living room with kitchenette, TV, sitting area, internet, and bathroom with shower. You have access to your own private terrace with lake views and a barbecue grill.
We will also set up a lovely outdoor kitchen, as well as a pizza oven outside in the garden during the evening. This outdoor kitchen will be shared amongst the three lodges. There should also be more powerful grills and you could wash your dishes in the outdoor sink as well.
Those who follow us know that sustainability, quality and hospitality are words that are important to us. We have many returning guests who book with us every year. Some want the same cabin or room, whilst others prefer to stay in different places. One thing is for sure, they all like the beautiful surrounding nature and what we do at Ödevata.
Three-room apartment-style lodge with a simple kitchenette
Bedroom 1: Two regular single beds (90 cm wide) that can be pushed together or pulled apart.
Bedroom 2: A regular single bed. There is space for an extra bed for children.
Bathroom with toilet, sink and shower.
Living room with kitchenette, comfortable seating, and a TV. The kitchenette consists of two hotplates, fridge, microwave, coffee maker, a sink, and kitchen utensils.
Private terrace with lake views.
These lodges can be booked weekly with check-in and check-out on Fridays. Bookings between 16 June to 20 August must be of minimum of 3 nights. Leave a message to us when you book if you want a cot. You can also book breakfast (except between 18 July – 14 August).
3 three-room lodges in repurposed barracks ca 50m2.
2 bedroom, 1 bathroom and 1 living room.
In the living room there is also a simple kitchenette.
Private terrace with lake views.
Check-in from 16:00 and check-out no later than 10:00.
Price per lodge:
SEK 1 800 per night.
Min. 3 nights between 16 June – 20 August.
The price increases during high season

SEK 10 000 for a week. (Maximum three adults and one child)
Breakfast can be booked for SEK 150 per person and SEK 80 for children up to 12 years old per day.
The price includes bedding and final departure cleaning.
Pets: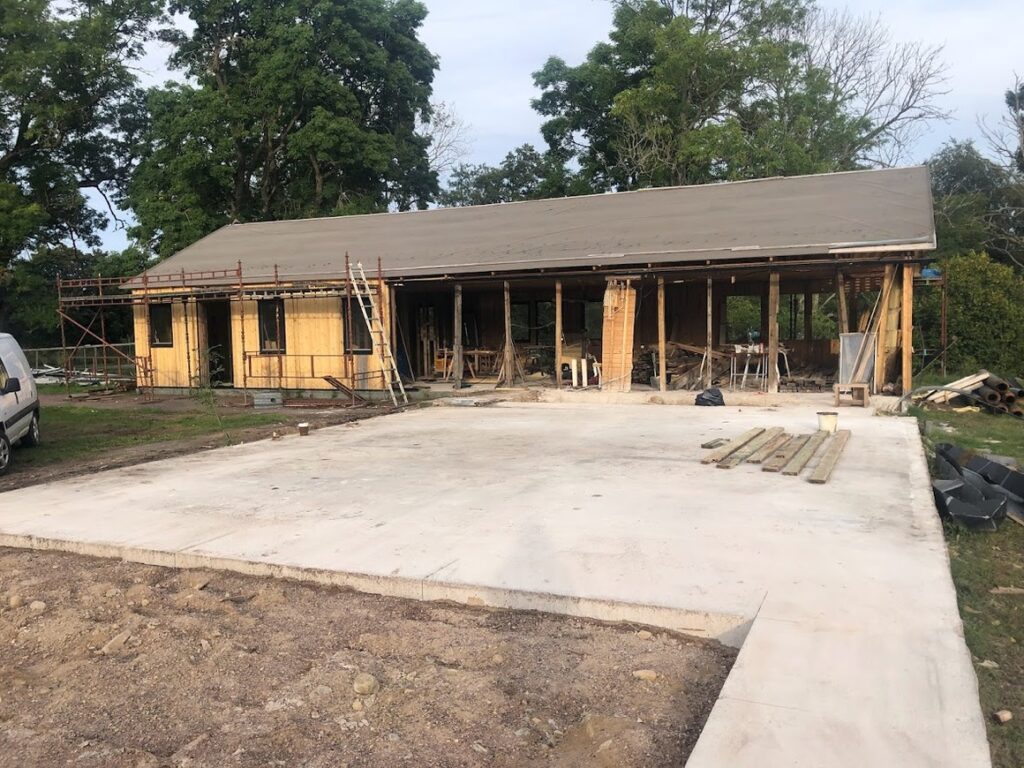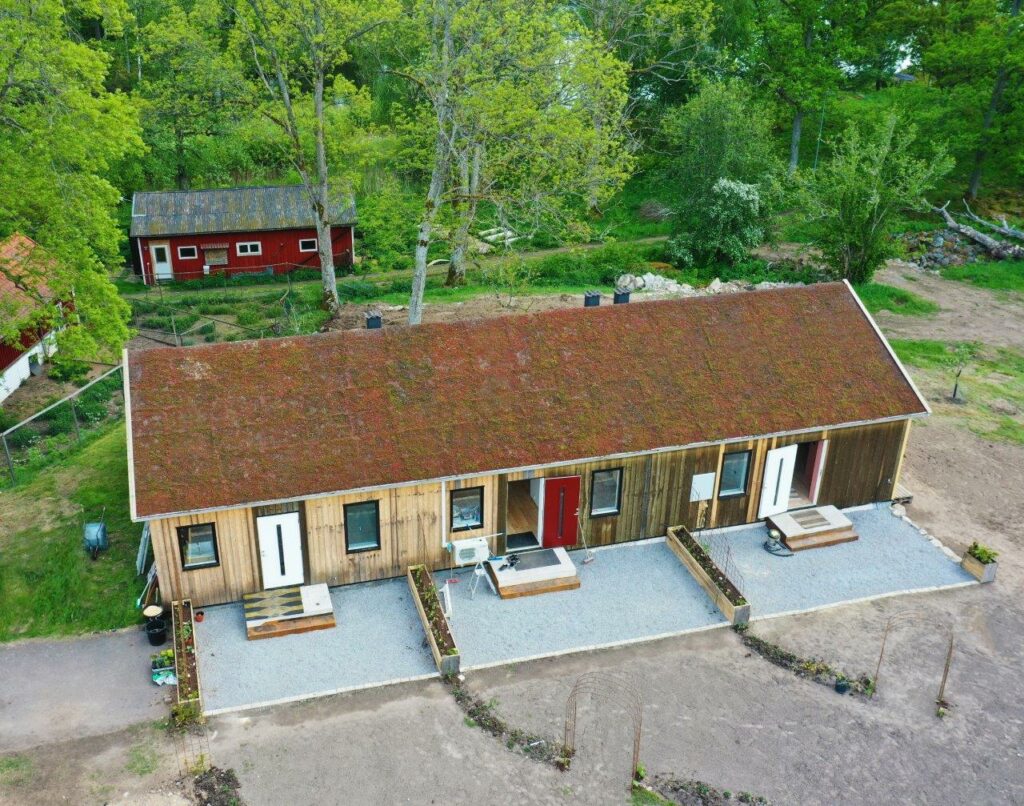 Given new life through recycling and repurposing
We know that many people wondered about the dilapidated houses, especially the barracks on the right side of the road at Ödevata, which have been untouched for 16+ years and what we plan to do with them. Now in 2022 we have repurposed the barracks into "Axelsson's Green Lodges" for our guests.
We have worked hard at Ödevata since 2005 to make our place an environmentally-smart holiday destination that maintains a high standard. We have already received several awards for our sustainability work. All the "new" studs, insulation, windows, etc. for Axelsson's Green Lodges are recycled. As little as possible are bought new. We even have sustainable showers!
Axelsson's Green Lodges was once a barracks building. The building has not been used for nearly 20 years. In 2021, we started our sustainability project and the old building was turned into exciting new, repurposed and climate-friendly lodges.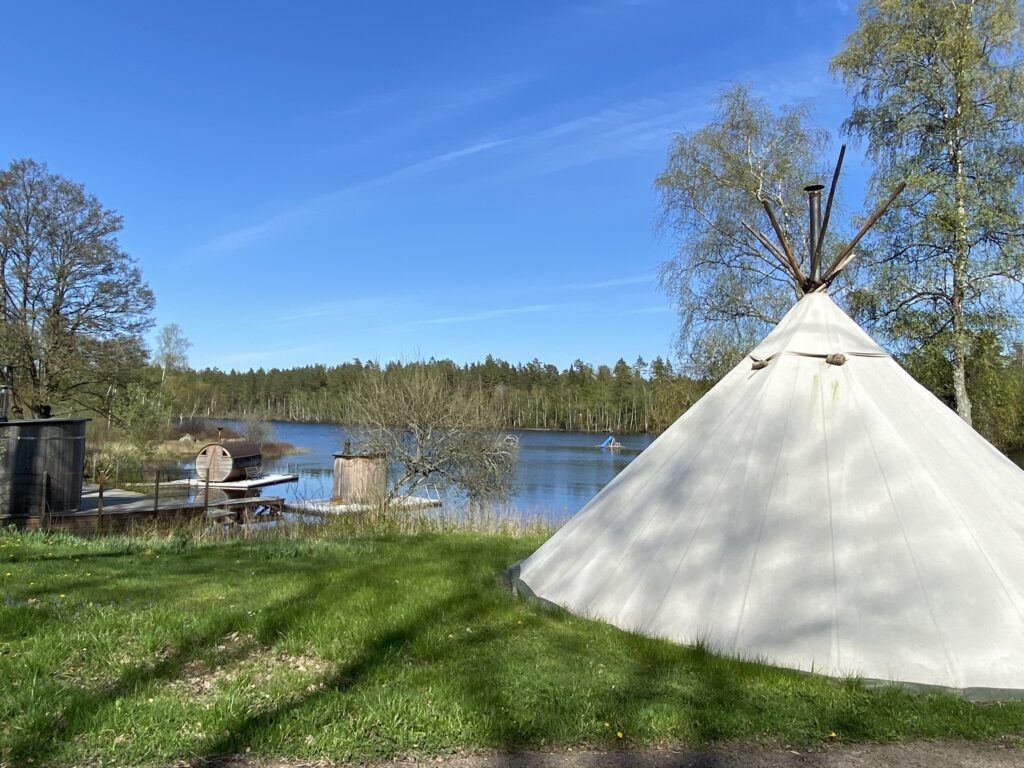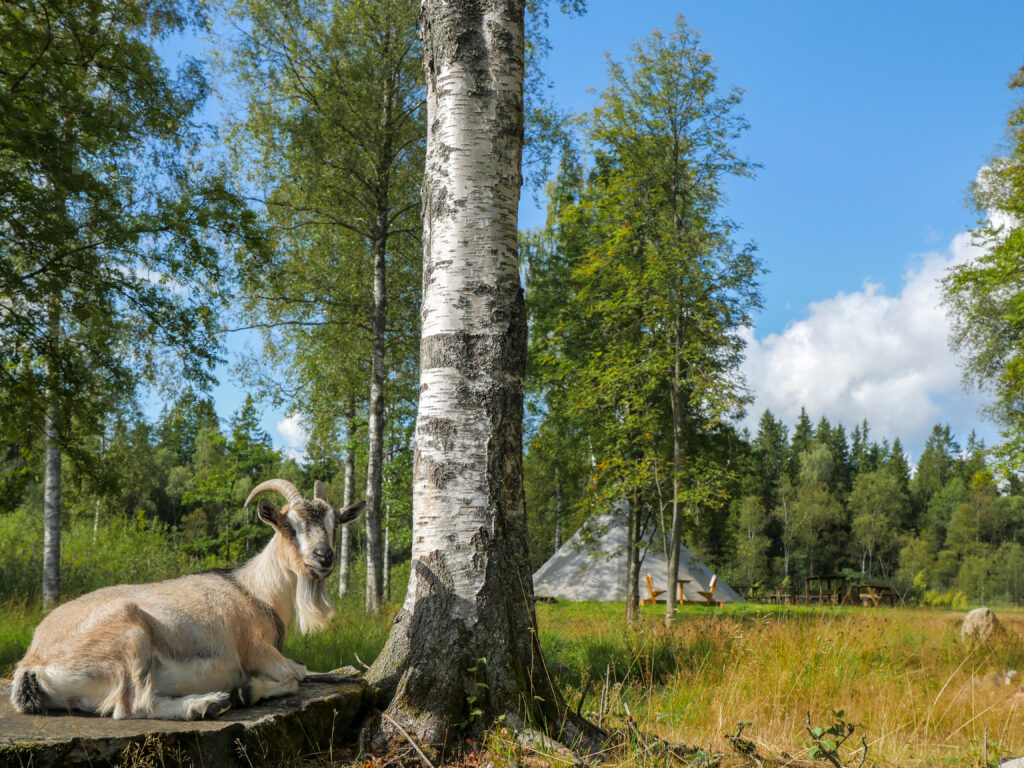 Being in nature is a must for your holiday 
In addition to the scenic Småland environment that surrounds Ödevata, you will also enjoy Ödevata's upcoming forest garden based on permaculture design. Some evenings you can walk around in the forest garden, other nights you can go out on the terrace and step almost straight into Lake Ödevaten.
Of course, it can also be absolutely wonderful to sit in the greenhouse and experience truly beautiful still darkness with only the stars shinning through. Ödevata Gårdshotell
Ödevata 104
SE – 361 92  EMMABODA
Tel: +46 47 150 430
E-mail: info@odevata.se
Copyright © 2023 Ödevata Gårdshotell