Ödevata Countryside Hotel & Fishing Camp: A hotspot for fishing enthusiasts
Fishing is many things. Relaxation. Nature. Outdoors. Community. Anticipation. Excitement. "Fika". Stories.
Ödevata is the go-to destination for fishing enthusiasts. Ödevata has something for everyone, no matter your age or skill level. Magnus is knowledgeable in both fishing techniques and the lakes here. He is willing to share his experience when he has the opportunity.
There are many beautiful accessible lakes of different character near Ödevata. Everything from shallow clear water lakes to enchanted forest lakes of varying sizes. The fish species are plenty, but consists mainly of perch and pike. A couple of the lakes are also rich of zander.
Ödevata offers boat rental in five of the lakes. Unfortunately, due to popular demand, we only rent out boats and equipment to our overnight guests.
One of the lakes, Ödevaten, is located next to the junction near our country hotel. There are also two ponds on the farm where we offer rainbow trout and crayfish fishing.
Your fishing adventure starts here! Come and create unforgettable fishing memories! Below you can read about the different lakes nearby, so you can book a boat in the lake of your choosing.
Fishing package
NOTE: Our exclusive fishing package is only available from 1 September to 30 April. However, you can still book boats, fishing equipment and such at full price during your stay of at least 2 nights at our hotel during other times.
Now you can directly book a boat in your favorite lake when booking your room.
Personal service is important to us at Ödevata. For 2021, we want to invest even more in our overnight guests. This means, among other things, that fishing and other activities will only be available for overnight guests.
When booking two nights, you will get a discount on the boat rental. However, this does not apply to HS.
It is also possible to book a boat at check-in, subject to availability.
Price: SEK 350 per day/boat.
An electric motor is always included, as well as life jackets and you always get a simple map, bucket with anchor, rope and a shovel. Of course, our best fishing tips are also included.
Fishing license: SEK 50 – 170 per day/adult
Fishing equipment rental: SEK 25 – 100/pers
Scroll down for more info on the different lakes to choose from.
Ödevata offers you as an overnight guest several different types of activities. You are very welcome to book, both at check-in and during your online room booking.
Our fishing waters: Natural lakes for beginners and professionals
Thanks to the fact that there are several lakes to choose from, there is something for everyone. Everything from families with children, to the experienced angler. The large selection of lakes means that you have the chance to spend a full day out on the lake without being disturbed.
Here you will find all the information about your fishing adventure, from lake type, depth and size, fish species to fishing licenses.
Ödevata Countryside Hotel & Fishing Camp is located on the shores of lake Ödevaten. A beautiful, long-stretched body of water, at max. 6 km length. It is rich with perch, pike, bream, roach, rudd, tench and burbot, perfect for fishing. It offers several nice places to bathe and barbecue. Since the lake has many coves and islands, you can easily find a remote and calm spot for yourself.
Area: 137 hectare
Max. depth: 6.5 m. Average: 2.5 m
Lake type: Nutrient-poor woodland-lake, 
Water colour: brown
Lake bottom: Rocks and mud with vegetation, waterlilies and reed
Visibility: 1.4 m
Fish species: Perch, Bream, Pike, Common roach, Rudd, Tench, Burbot
Size-records: Perch 1500 g, Pike 8,6 kg
Rowing boat with e-motor: 350:-/day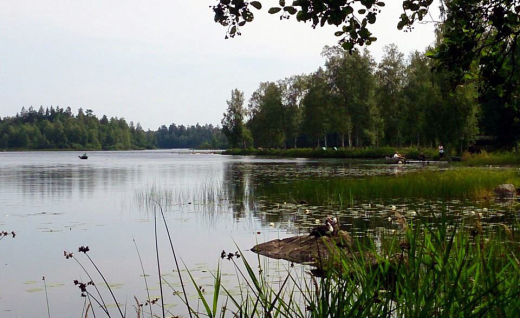 Törn is the largest lake in Emmaboda municipality, located 20 km from Ödevata. It is the lake of choice for our guests who want to fish zander, since the lake has a strong zander population. Even impressive pike can be caught at Törn every year. We provide information and insider-tips for successful fishing if you choose to pay Törn a visit.
Area: 757 hectare.
Max. depth: 8,4 m. Average: 1,7 m
Lake type: Nutrient-poor lake, 
Water colour: Brown
Lake bottom: Rocks and mud
Vegetation: Waterlilies, club-rush, bulrush etc.
Fish species: Zander, Pike, Perch, Silver bream, Bream, Burbot, Bleak,
Roach and Tench
Size-records: Pike: 14 kg – caught by our guests 
Skärsjön is a very special lake. It is very shallow, max. 3,1m deep, and its water is stunningly clear. In the northern parts of the lake you find wellsprings, which are responsible for the waters' low temperature, even in summer. The vegetation makes Skärsjön hard for fishing, so you should look for spots free of lake weed. The lake bottom is covered with rocks and you can even see large boulders reaching up to the surface. Perfect for sport fishing.
Area: 213 hectare
Max. depth: 3,1 m. Average: 1,7 m.
Lake type: Nutrient-poor clearwater-lake,
Water colour: Clear
Lake bottom: Rocks and stone
Vegetation: Mostly pond weed
Fish species: Perch, Pike, common Roach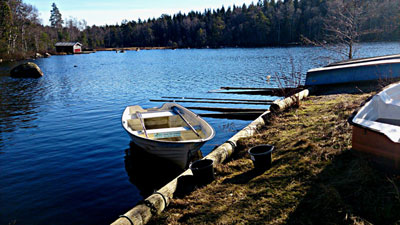 It is always exciting to fish in Hultabräan, a large lake rich of large pikes and zander. This lake is shrouded in legends, because you can see walls of stone, small islands and even rocky paths at the bottom of the lake! On the southern shore, you can find a boat ramp, called Hornet.
Area: 194 hectare
Max. depth: 18,5 m
Lake type: Clearwater-lake
Visibility: 4,7 m
Fish species: Pike, Perch, Zander, common roach, Bream, Tench
Size-records: Pike: 14,2 kg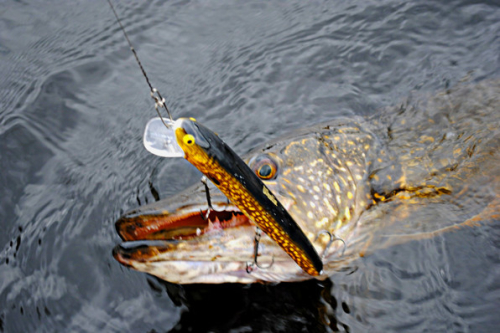 The
Emmaboda's s
portfishing club prefers this lake and offers trout fishing opportunities. It is located 20km from Ödevata, near Vissefjärda. Svartegöl is a put-and-take lake. Rainbow trouts up to 3kg is released 2-3 times per season. The lake is regularly limed to ensure a stable and reasonably high pH value. Good for family fishing too.
"Put-and-take" rainbow trouts
and arctic char.
Area: 3,3 ha, 
Max. depth: 8 m. 

Average: 3,4 m

8 fishing piers, 3 of them accessible for the disabled
Only spin- and fly-fishing allowed, baited hooks are forbidden
Catch-limit: 3 fishes
More information: Emmabodas sport fishing club
Fishing license: SEK 170 per day/pers.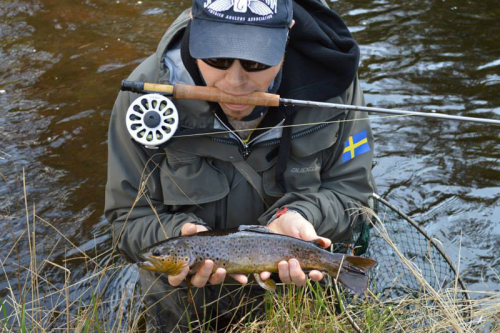 Ödevata Gårdshotell
Ödevata 104
SE – 361 92  EMMABODA
Tel: +46 47 150 430
E-mail: info@odevata.se
Copyright © 2023 Ödevata Gårdshotell